Meet Executive Chef Michael Holmes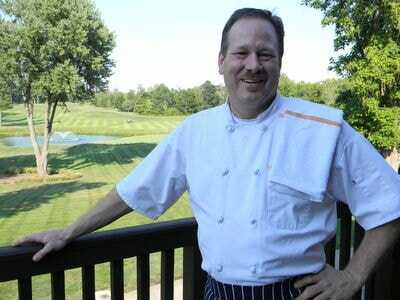 Native St. Louisan Michael Holmes brings to Persimmon Woods a wealth of experiences at some of St. Louis' finest clubs and restaurants. Michael assumed the role of Executive Chef and Director of Food & Beverage in September 2013.

Michael studied the culinary arts at Forest Park Community College and attended the Culinary Institute of America in Napa Valley. His professional resume includes assignments at Cardwell's and Balaban's. His extensive private club background includes serving as Executive Sous Chef at Greenbriar Hills and Sous Chef at St. Louis Country Club.

He describes his cuisine as "Midwestern Homestyle" but also has developed an interest in Asian fusion cuisine and is capable of delivering quality dining experiences in a number of styles. He lists his favorite area restaurants as Harvest, Niche and Trattoria Marcella.

Michael said the Persimmon Woods menu will continue to offer many longstanding member favorites and he will introduce some new signature dishes over time.

When not in the kitchen, Michael enjoys scuba diving and saltwater fishing in Florida, and golf just about anywhere.